Lu L'Arronge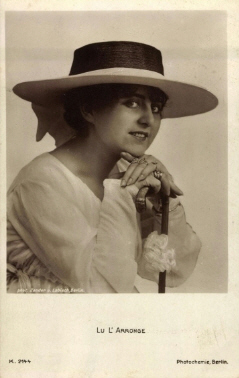 Foto: Siegmund Labisch (1863-1942)
? - ?
.
.
The actress Lu L'Arronge cherished early the wish to become a stage actress. Not least because her grandfather belonged to the founders of the Bühnengenossenschaft and her father's cousin was the well-known stage writer Adolf L'Arronge.

But her mother didn't become friends with the thought that her daughter would become an actress and Lu L'Arronge came down a peg with her ambition.

She conquered the big screen from 1917 and she took part in movies like "Die Schlange der Kleopatra" (17), "Lu's Backfischzeit" (17), "Lu'chens Verlobung am Gartentor" (17), "s'Liserl vom Loischtal" (17) and "Kain" (18). Finally she founded her own production company and in the next few years she impersonated leading roles in "Wenn's Landlüferl weht" (18), "Anna Karenina" (19) directed by Friedrich Zelnik, "Wenn die Liebe nicht wäre" (19), "Piccolo-Liebchen" (19), "Die weisse Maus" (19), "Fürst Sally" (19) and "Die Geisterbraut" (20).