Lu L'Arronge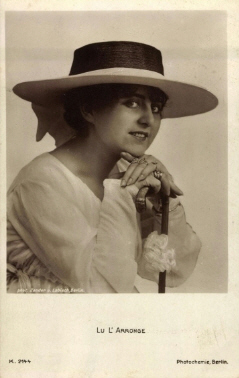 Foto: Siegmund Labisch (1863-1942)
1892 - 1977
.
.
The actress Lu L'Arronge (actually Dorothea Luise L'Arronge) harbored the desire to become a theater actress from an early age. Not least because her grandfather Martin Adolphe L'Arronge was one of the founders of the stage cooperative and her father's cousin Adolf L'Arronge was a well-known playwright.

But since her mother was not comfortable with the idea of her daughter becoming an actress, Lu L'Arronge put her ambitions on hold.

But when during World War I the film industry came up and conquered a huge audience, the desire to become an actress rekindled in her.
From 1917 she conquered the film screen and she acted in movies like "Die Schlange der Kleopatra" (17), "Lu's Backfischzeit" (17), "Lu'chens Verlobung am Gartentor" (17), "s'Liserl vom Loischtal" (17) and "Kain" (18). Finally she founded her own production company and in the next few years she impersonated other leading roles in "Wenn's Landlüferl weht" (18), "Anna Karenina" (19) by director Friedrich Zelnik, "Wenn die Liebe nicht wäre" (19), "Piccolo-Liebchen" (19), "Die weisse Maus" (19), "Fürst Sally" (19) and "Die Geisterbraut" (20).

In 1921 she got married with the businessman Giuseppe Ausonio and she retired from the film business. Lu L'Arronge left Germany in the middle of the 30's and went to Italy where she lived in Ospedaletti, the home of her husband. Lu L'Arronge died in Monza at the age of 85.