Eva L'Arronge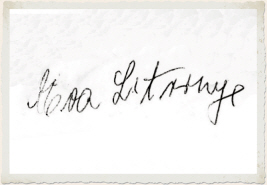 1907 - 1996
.
.
The actress Eva L'Arronge continued the family tradition as an actress. Already her grandfather Theodor Everhard L'Arronge and her father Richard L'Arronge were both busy as actors and theater managers. Her mother Adeline Lorjé and her aunt Betty L'Arronge were also actresses. In addition her uncle Adolph L'Arronge was active as a writer of plays and theater critic.

With this familial history the course of Eva L'Arronge's life was given and she began her career as a singer and actress at the theater.

She entered the film business in 1931 and she took part in the movies "Wochenend im Paradies" (31), "Die Koffer des Herrn O.F." (31) and "Luise, Königin von Preussen" (31).

Because she was not able to generate a proof of Aryan ancestry she was not allowed to work any longer in the 30s. Eva L'Arronge disappeared from the spotlight again.

She was only able to continue her artistic career after World War II and she appeared in few movies like "Die Reise nach Marrakesch" (49) and an episode of the serial "Das Jahrhundert der Chirurgen: Der Bär von Dumfried" (72).
She concentrated now to her activity as a narrator in radio plays where she became a demanded voice.