Anton Amon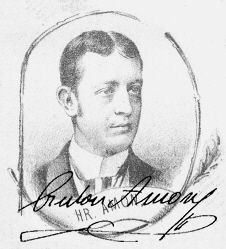 Foto: Ignaz Eigner (1854-1922)

1862 - 1931
.
.
The singer and actor Anton Amon made first experiences as a singer but he was attracted by the theater and he began his acting career in Iglau in 1886.
In the next years followed numerous appearances on smaller stages before he was engaged by the Deutsches Volkstheater where he remained active till to the beginning of the 20th century.

His first appearance in front of the camera followed in 1921 with "Ich hab's getan" (21) with Marietta Olly.

In the next years he took part in other silent movies, among them "Die Sportlady" (22) with Carmen Cartellieri and Werner Schott, playing a valet "Ein Walzer von Strauss" (25) directed by Max Neufeld with Eugen Neufeld, Fred Louis Lerch and Charlotte Ander, Jacob and Luisa Fleck's "Der Pfarrer von Kirchfeld" (26) with Wilhelm Dieterle, Fritz Kampers and Margarete Lanner as well as performing the role of Dechant Röller "Die Beichte des Feldkuraten" (27) with Igo Sym, Hans Marr, Karl Noll, Dagny Servaes and Christa Tordy.

His last cinematical work was his only talky called "Der Fleck auf der Ehr'" (30), again directed by Jacob and Luisa Fleck. At the side of Hans Marr, Rolf von Goth, Gritta Ley, Carl de Vogt and Wolf Albach-Retty he impersonated the role of the pastor Gottwalt.

Beside his activity as an actor Anton Amon was also a landscape painter.