Edith d'Amara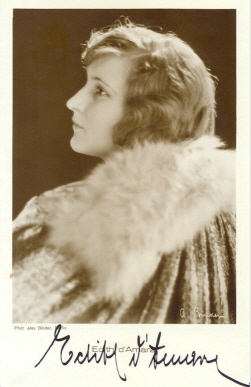 Foto: Alexander Binder (1888-1929)

? - ?
.
.
The actress Edit d'Amara was only active for a brief time in the film business at the beginning of the 30s.

Ih her first movie "Der Weg zur Schande" (30) directed by Richard Eichberg she played the chanson singer Yvette at the side of Anna May Wong, Franz Lederer, Georg H. Schnell and Hugo Werner-Kahle.

Afterwards she appeared as Lilli in Richard Löwenbein's "Zärtlichkeit" (30) with Georg Alexander, Paul Otto and Karl-Ludwig Diehl, she was Schilling's secretary in "Peter Voss, der Millionendieb" (32) with Willi Forst, Alice Treff, Paul Hörbiger, Ida Wüst, Otto Wernicke and Josef Eichheim and she impersonated a maid in "Der Feldherrnhügel" (32) with Ivan Petrovich, Elga Brink, Betty Bird, Fritz Spira and Hansi Arnstaedt.

Her last cinematical work was "Kiki" (32) directed by Karel Lamac with Anny Ondra, Hermann Thimig, Paul Otto and Willy Schaeffers.