Vilma Aknay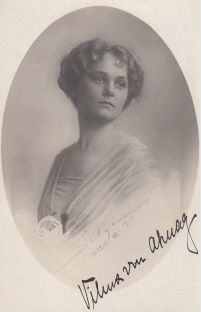 Foto: Franz Xaver Setzer (1886-1939)

1889 - 1980
.
.
The actress Vilma Aknay appeared in only few silent movies from 1918.

Her first movie was "Die Rache des Fakirs" (18) with Otto Poll who was also the director of this movie.

It followed the productions "Notar Möller" (19) with Carl Goetz, Hermann Romberg and Eugen Jensen, "Ein Künstlerleben" (19) with Franz Ferdinand as well as "Das Andreasfest" (19) with Karl Ehmann and Franz Ferdinand.

In her last movie "Don Juan" (22) she impersonated the role of Conchita. To her co-stars belonged Margit Barnay, Julius Falkenstein, Margarete Lanner, Emil Mamelok, Hans Hermann Schaufuss and Hans Adalbert Schlettow.