The Munster
Herman Munster is in the best manhood (150 years old) and lives in grand style (shoe size 26C).
With a height of 2.25 meters he towers above all the other members of the family.
Because of his with steel bolt decorated neck (Herman Munster appears here as pioneer of the present piercing fashion), his greenish skin, the different ears and the beauty-bruise in from of a blizzard he is hardly to overlook.
Herman Munster was produced in a German lab by Dr. Frankenstein, whose hobby was to put persons together with his "Do-It-Yourself" construction set.
Herman left Germany at an early age and was adopted in England by a family called Munster.
Herman distinguishes himself through exceptional capabilities in telling childish jokes.
His professional background led him to the undertaker's of Gateman Goodbury & Graves.
He proves his good taste with his preference for "Huckleberry Hound" and "Pat Boone"-albums.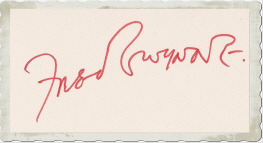 The Person
Fred Gwynne was born in 1926 in New York City. With the part of Herman Munster he achieved the zenith of his popularity although he could prove his acting capabilities in severeal other movies.
At about the end of World War II he worked for the radio of the Navy. After the war he visited Harvard University where he came in contact with acting for the first time when he went on tour with the Brattle theater group. Because of appearances in some Broadway productions he also had sporadic entrances in TV shows. In 1961 he appeared for the first time in the TV serial "Car 54 Where Are You", where he chanced up on Al Lewis (the actor of Grandpa). After two years and 61 episodes the serial was stopped.
1964 and 1965 were marked by the Munsters. Although this serial had a far better success than "Car 54", it was also stopped after two years and 70 episodes. It wasn't because the serial didn't have enough success but was to reduce to the extreme expenditure for the special effects in those days.
After "The Munsters" Fred Gwynne worked furthermore for the television business with occasional appearances however he developed a great talent as an author at the same time (Chocolate Moose for Dinner) and as an artist and sculptor.
During the 70s and 80s he returned to the Broadway. The 80s constituted also a turning point in his film career. Swamped with offers he acted in 19 movie productions, e.g. The Cotton Club (84) Fatal Attraction (87) and My Cousin Vinny (92) where he played a judge
.
In 1993 Fred Gwynne died at the age of 67.