(1894 - 1937)
Above the clouds the freedom seems to be unlimited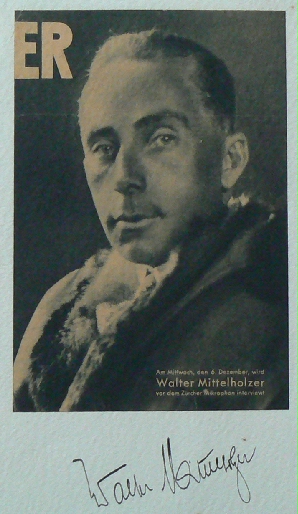 The Swiss flight pioneer Walter Mittelholzer learnt the profession of a photographer which was important for his later career.
He joined the Swiss Army as a recruit and was divided to the new created airplane force where he soon flew regular deployments in order to photograph different regions aroung Zurich.
Finally he became the head of the photographic department of the army and in the course of time he overflew nearly whole Switzerland and documented his overflights with the camera.
During World War I he acquired the licence for the civil flight, one year later he finished his education as a military pilot.
Fascinated by flying and photographing likewise he got into business for himself in 1919 and founded together with Alfred Comte the "Mittelholzer und Co., Luftbildverlagsanstalt und Passagierflüge".
One year later the company merged with Ad Astra Aero whose director and chief pilot Walter Mittelholzer became.
Mittelholzer expanded his field of activity to the international air space and he soon got orders from all around the world.
Among others he flew the new line from Berlin to Danzig and Riga and on behalf of the Persian government he flew to Tehran in 1924.
A supply flight from Spitzbergen for Roald Amundsen's North Pole expedition fell through because of a technical defect of Amundsen's plane.
Mittelholzer's flight to South Africa attracted huge interest becausehe was the first one to fly to South Africa from north to south. After 65 days he landed savely in Kapstadt after more than 20'000 kilometers and he became international famous.
One year later he circled the western Mediterranean and took numerous aerial pictures.
He realised again a pioneer act with the overflight of the Kilimanjaro in 1930. The pictures he took, especially from the crater of Kibo, attracted international attention and were published in many magazines.
1931 followee another milestone in his career when his company merged again, this time with the Balair AG Basel. It arose the famous Swissair AG and Walter Mittelholzer became the technical director and was still busy as chief pilot of course.
Walter Mittelholzer made his last huge flight in 1933 when he flew to Addis Abeba to deliver the ordered Fokker to emperor Haile Selassie in-person.
Despite his dangerous occupation he endured all delicate situations during his time as a pilot. Therefore it nearly sounds ironically that Walter Mittelholzer was killed in an accident during a mountain hike in the Steiermark. He was only 43 years old.
The name Walter Mittelholzer ist present till today and his books got a wide distribution, expecially in Switzerland.
He leaves more than 100'000 photographs from about 9'000 flights behind which are in the possession of the "Luftbild Schweiz". Furthermore their exist several documentaries, among them "Mein Persien-Flug 1924-1925", "Afrikaflug: Im Wasserflugzeug von Zürich nach Kapstadt" from 1927 and "Abessinienflug" von 1934.
Besides flying and photography he was also engaged as a copartner at the Swiss film production company "Praesens Film AG" from Lazar Wechsler.
Weitere Signaturen von Schweizer Flugpionieren

Adolf Schaedler 1893-1983

Alfred Comte 1895-1965

Alphons Simonius 1892-1952

Armand Dufoux 1883-1941

Attilio Maffei 1878-1931

Charles Favre 1884-?

Edmond Audemars 1882-1970

Eduard Spelterini 1852-1931

Else Haugk1889-1973

Emile Taddeoli 1879-1920

Ernest Burri 1887-1969

Ernest Failloubaz 1892-1919

François Durafour 1888-1967

Georges Marcel Pasche 1896-1964

Hans Burkhard 1888-1977

Hans Schmid ?-1911

Henry Kramer 1892-1977

Jorge Chavez Dartnell 1887-1910

Marcel Lugrin 1891-1915

Max Bucher 1887-1972

Oskar Bider 1891-1919

René Grandjean 1884-1963

Theodor Real 1881-1971

Theodor Borrer 1894-1914
Stempelunterschrift

Theodor Borrer 1894-1914
Stempelunterschrift