Tad Stones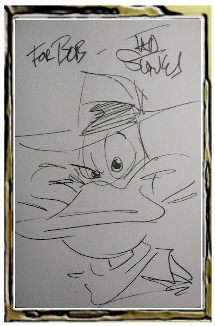 1952
.
.
Der
Trickfilmzeichner
Tad Stones wurde
in Burbank geboren.

Seine künstlerische
Laufbahn begann er
mit einer Ausbildung
beim Disneyzeichner Eric Larson.
Danach arbeitete er ab 1974 für
Disney – seine erste Mitarbeit an einem
Zeichentrickfilm war "The Resucers" (77), es
folgten "The Fox and the Hound" (81).

Ab 1984 arbeitete Tad Stones für die Walt Disney
Television Animation, wo er kreative Impulse für die Disney
Nachmittags-Shows gab. So schrieb er Episoden für Sport Goofy in
"Soccermania", für "Chip 'n Dale Rescue Rangers" und "Adventures of the Gummi Bears".

Als Tad Stones 1990 den Auftrag bekam, ein eigenes Konzept zu entwickeln und er illustrierte schliesslich "Darkwing Duck.

In den nächsten Jahren arbeitete er als Produzent und Regisseur für die Fernsehserie "Aladdin",
"Aladdin 2: The Return of Jafar", "Aladdin and the King of Thieves",
"Hercules: The Animated Series" und "Atlantis: Milo's Return".

2003 verliess er Disney und ging zu den Universal Cartoon
Studios. Dort arbeitete er an "The Adventures of
Brer Rabbit", "Hellboy: Sword of Storm",
"Hellboy: Blood and Iron", "The Phantom
Claw", "Pyramid of Death", "The Menace
of the Mechanical Monster", "The
Perhapanauts", "Scooby-Doo!
Mystery Incorporated" und
"Neighbors from Hell".

Schliesslich kehrte er
zu Disney zurück wo
"The Pirate Princess"
entstand.