Mike Higgs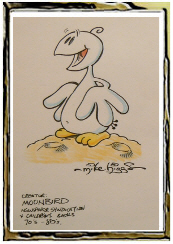 ?
.
.
Der Cartoonist Mike Higgs
schaffte den Durchbruch 1967
mit seinem äusserst erfolgreichen Comic-Strip "The Cloak".
In den nächsten Jahren kreierte er weitere Cartoons, darunter
"Space School", "Thundercap", "Tales from a Distant Star" und "The Barbarian".

Sein täglich erscheinender Cartoon "Moonbird" schaffte es auch in Form von
Kinderbüchern, eine grosse Leserschaft zu erreichen.

Neben seinen Cartoons realisierte er auch
verschiedene Bücher, die sich dem Thema
Comic verschrieben haben, u.a. "Comics at War",
"The Comic Art of Charlie Chaplin",
"Popeye: the 60th Anniversary Collection" und "The Monster Society of Evil".