Mark Henn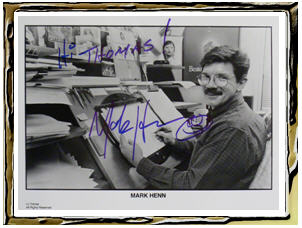 1958
Mark Henn
ist ein bekannter Trickfilmzeich-
ner, der speziell für Disney-Produk-
tionen arbeitete. Für diese Filme war
er oftmals für die Titelfiguren und
weiblichen Hauptdarstellern verantwort-
lich. Sein Weg führte ihn nach ei-
nem Studium im Fach "Character Ani-
mation Program" am "California Insti-
tute of the Arts" zu den Disney-
Studios, wo er erstmals
1983 für den Trickfilm
"Mickey's Christmas Ca-
rol" (83) in Erscheinung
trat. In den kommen-
den Jahren arbeite-
te er als Animator für "The Black Caul-
dron" (85), "The Great Mouse Detecti-
ve" (86), "Oliver & Company" (88), "The
Little Mermaid" (89), "Roller Coaster
Rabbit" (90), "The Rescuers Down
Under" (90) und "The Prince
and the
Pauper"
(90).
Seit
dem grossen Kassenerfolg mit
mit der Disney-Grossproduktion "The
Little Mermaid" (89)folgten weitere Kino-
Highlights mit "Beauty and the Beast" (91),
"Aladdin" (92), "The Lion
King" (94), "Poca-
hontas" (95)
und "Mulan"
(98). Zu sei-
nen aktuellen
Arbeiten für
den Trick-
film ge-
hören
"Lilo
&
Stitch" (02), "Home on the Range" (04), "Meet the Robinsons" (07),
"How to Hook Up Your Home Theater" (07), "Enchanted" (07),
"Pups of Liberty" (09), "The Princess and the Frog" (09)
und "Winnie the Pooh" (11). Neben seiner Tätigkeit als
Trickfilmzeichner ist Mark Henn auch als Bildhauer tätig.