James Bernardin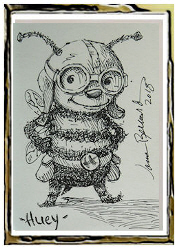 ?
.
.
Der Illustrator James Bernardin entdeckte
schon früh seine Leidenschaft für das Zeichnen. Als er auf das
Community College ging, besuchte er soviele Zeichenstunden wie möglich. Es folgte
ein dreijähriges Studium am Art Center College of Design in Pasadena. Noch kurz vor dem
Abschluss am Art Center erhielt er einen ersten Auftrag als Buchillustrator, was ihn in seiner
Entscheidung stärkte, diesen beruflichen Weg einzuleiten.

Seitdem begeistern er mit seinen Illustratoren das grosse und vor allem das kleine Publikum.

Zu seinen zahlreichen Buchillustrationen gehören "Horatio's One Wish" von Joshua Kriesberg,
"Good Night, Little Dragons" von Leigh Ann Tyson, "Too Many Monsters" von Eve
Bunting, "Would I Trade my Parents" von Laura Numeroff, "Casey Jones's
Fireman" von Nancy Farmer, "Yes Virginia - There Is a Santa Claus"
von Chris Plehal, "Grandmother Spider Brings the Sun" von
Geri Keams, "Go Back to Bed" von Ginger Foglesong Guy,
"Big Men, Big Country" von Paul Robert Walker",
"Encyclopedia Brown Cracks the Case"
von Donald J. Sobol, "The
Twelve Prayers of Christmas"
und "Wolf and the
Four Gazelles".