Charles Chaplin
(1825 - 1891)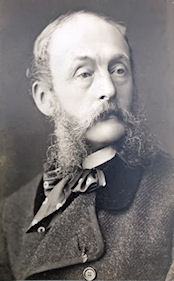 Who hears the Name Chaplin has to think inevitable to the legendary comic actor Charlie. But already in the 19th century there was a famous Charles Chaplin. This Charles Chaplin was born on 8th June 1825 in Andelys, France. Chaplin visited from 1940 the "Ecole des Beaux-Arts" and was a student of Michel-Martin Drolling.
The artist, etcher and lithographer Chaplin made his debut already in 1845 in a drawing room with a lady portrait. Even then his special liking for women and children portraits crystallized which made him so famous later.
Since 1847 he produced periodical works for exhibitions, e.g. for the Royal Academy in London.
Charles Chaplin, besides his portraits, devoted himself to the landscape painting, often in connection with the rustic genre oder animal portraits.


But his most impressive works are those in tender tint, preferenced in white, silvergrey and pink matched women portraits which followed the tradition of great English portraitists of the 18th century. These paintings looked very erotic because of the light-clothed women.
His work "Aurora" was refused as scandalous by the salon jury in 1859 and the Comte de Nieuwerkerke imposed an exhibition prohibition for this painting. But Napoleon III abolished this prohibition.
Chaplin became a popular fashion painter at court in the 1860's. He led a painting studio which was reserved for women only. He taught among others Marie Helene Aarestrup, Louise Abbéma and Mary Cassatt.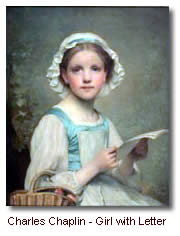 In his etchings was very clear reflected the ability of Chaplins as well. These distinguish themselves through fine lines and an extreme precise graph.
Charles Chaplin got a lot of honours and awards in the course of his career, among others he was knighted in 1878 and became officer of the Legion of Honor in 1881.