BIOGRAPHY of
PATRICK MACNEE
(born on the 6th February 1922 in London)
Patrick Macnee was born into an aristocratic English family. At age three, he was bundled off to Summer Fields Prep School near Oxford.
He went on to win a scholarship to Webber Douglas Academy of Dramatic Art and got his start in show business in 1941 with a small role in a stage production of "Little Women".
One Year later he made his debut in films as an extra in "The Life and Death of Colonel Blimp".
Patrick Macnee was in Hollywood from 1957 to 1959 for "Les Girls" and "Mission of Danger" for MGM; his TV credits during this time included various Playhouse 90's and Alfred Hitchcock Presents.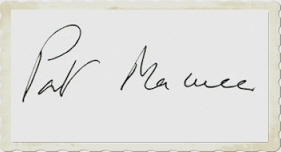 In 1960 Patrick Macnee landed the leading role in an imaginative new British TV series "The Avengers", playing John Steed, the suave, dashing Englishman with his bowler hat, rolled umbrella and fancy clothes.
Macnee's popularity soared and both show and star enjoyed a cult-like status.
This days he lives in Southern California with his third wife and his two beloved dogs.
In his spare time he enjoys bird watching, "Chatting with pretty ladies", and preventing terrorism. He even received an award from the Bureau of Federal Aviation for preventing terrorism on aircraft.

BIOGRAPHY of
DIANA RIGG
(born on the 20th July 1938 in Doncaster)
From the earliest childhood Diana Rigg lived in India until she was eight years old and was sent back to England to boarding school.
Although she had a very boring time at Fulneck Girl's School it was there that she discovered her interest in acting, supported by her teacher Sylvia Greenwood. Another influence was her grandfather, with whom she visited during school vacations, and who encouraged her interest in T.S. Eliot, Shakespeare and the English lyric poets.
In 1955 she was accepted at the Royal Academy of Dramatic Art. For the next four years she worked in repertory theater.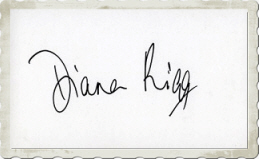 In 1959 she signed a five-year contract with the Royal Shakespeare Company in Stratford and began to gain recognition.
In the late 1964 she auditioned for the role of Emma Peel in "The Avengers".
While the fans of "The Avengers" were enthusiastic about Diana Rigg, Diana Rigg was less than happy with it. She was uncomfortable with the demands of interviews, publicity and photography sessions, and with the overwhelming recognition the series brought her.
After leaving "The Avengers" she had to fight against being typecast in Emma Peel-type roles (although she made the Bond film "On Her Majesty's Secret Service"). In the 70ies she acted in "The Hospital" (71), "Theater of Blood" (73) and had her own series in the USA - "Diana".
Diana Rigg was married with Menahem Gueffen (1973 to 1976) and Archibald Stirling (1982 to 1990) with whom she has a daughter.