James Welch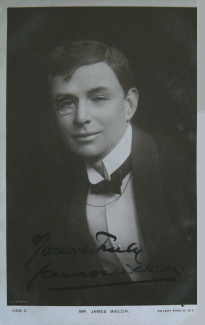 1865 - 1917
.
.
The actor James Welch became established at the British theater at the end of the 19th century and he impersonated numerous roles on different stages.

He made his film debut in 1913 and he played the role of Marmaduke Wright in "The Eleventh Commandment" (13) with Gladys Cooper and Vincent Clive as well as in "Recitation by James Welch" (13).

Afterwards followed only two more silent movies with "When Knights Were Bold" (16) as Sir Guy de Vere with Gerald Ames and Marjorie Day and "The New Clown" (16) as Lord Cyril Garston with Manora Thew, Richard Lindsay and Tom Coventry.

James Welch died in 1917 at the age of only 51.