Leslie Faber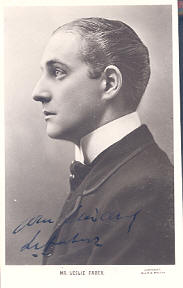 1879 - 1929
.
.
The actor Leslie Faber was a successful stage actor who took part in only few silent movies.

He made his film debut in 1921 with the movies "The White Hen" (21) and "Candytuft; I Mean Veronica" (21).
In the next years till his early death followed the productions "Afraid of Love" (25), "The Three Passions" (28), the Edgar Wallace filming "The Ringer" (28) and "White Cargo" - a silent movie which was equiped with sound later.