Meggie Albanesi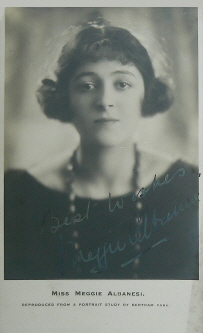 1899 - 1923
.
.
The actress Meggie Albanesi was born as the daughter of the writer Effie Adelaide Rowlands and the musician Carlo Albanesi. Her birth name was Margherita Cecila Brigida Lucia Maria Albanesi.
After an education at the Royal Academy of Dramatic Arts where she won the Bancroft gold medal, she soon became established as an actress at the theater. She made her stage debut with "A Pair of Spectacles" (17), her first success followed with the play "The School for Scandal".
Other plays followed "The Rising Sun", "Mr. Todd's Experiment", "The Skin Game", "A Bill of Divorcement", "George and the Dragons", "Bill", "The Bookman", "East of Suez" and "The Lilies of the Field" (23).

She was not only one of the most praised British up-and-coming actress but was also ablt to gain a foothold in the film business in 1919 with "Mr. Wu" (19) at Matheson Lang's side.
The critics for Meggie Albanesi came thick and fast and she was praised as an iconic figure for a new arising acting generation.

In the next years she appeared in the silent movies "The Better 'ole: or: The Romance of Old Bill" (19) with Lillian Hall-Davis, "Darby and Joan" (19) with Ivy Close, "The Great Day" (20) with Arthur Bourchier and Marjorie Hume, "The Skin Game" (21) with Edmund Gwenn and Mary Clare and the Swedish production "Det omringade huset" (22) directed by Victor Sjöström.

After a failing relationship with her acting partner Owen Nares - whose wife detected the affair and demanded an immediate ending - she tried to compensate the pain of parting with numerous affairs. She became pregnant several times and chose abortions each time. But her health became affected by such surgical interventions.

In the last few months of her live she had throat problems and underwent several operations. Afterwards she recovered at a a nursing home where she shortly afterwards died at the age of only 24 of a infection of a stomach abscess burst.
A much demanding artistic career came to an abrupt end.

In a obituary some comments of other artists were printed, among them J. M. Barrie who said "Exceptional glories lay in front of her", John Masefield who said "She would be the wonder of our stage" and W. Macqueen Pope who described her as "The most vivid personality and accomplished actress who had stepped upon our stage for years...she would have been the Queen of our stage. A great lamp of the British theatre went out before it had gained its full lustre".