(1900 - 1924)
Departed as a Youngster, Gone as a Giant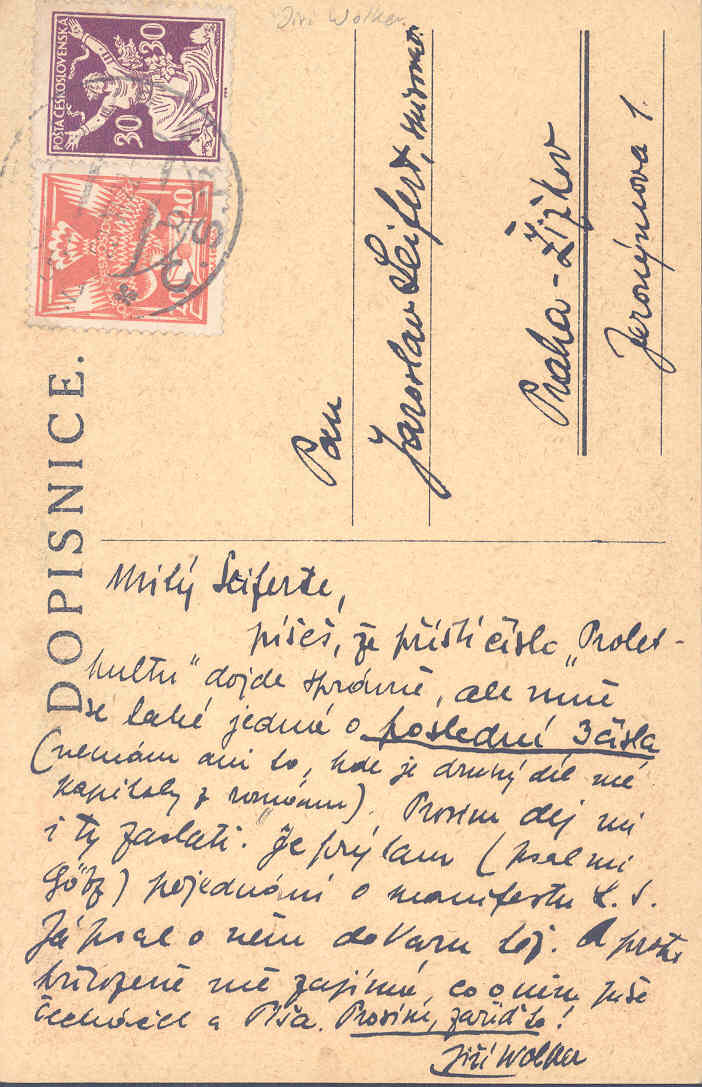 The writer Jiri Wolker was born into a wealthy family.
When he began his Jura study at the University of Prague in 1919 he got in touch with the left intellectuals who influenced his work.
Jiri Wolker soon began to write first poems which were published in 1921 under the titel "Host do domu".
Beside it were also some poems published in newspapers and magazines like "Cerven".
Because the writing style of Jiri Wolker differed from his contemporary avant-gardists he became a star among the Czeck poets who influenced a new generation.
After a brief membership by "Literarni skupina" and by"Host" Jiri Wolker was looking for a new literary challenge and created experimental prose and dramas which were published under the title "Tri hry". In these works he shifted his mind in the direction of poverty and repression based on the communism.
But Jiri Wolker's star only glew for a short time in the environment of the Czech literature, his promising future was transformed into a black hole abruptly.
Jiri Wolker came down with tuberculosis in 1923 and went to a sanatory.
When the end of his life became apparent he wrote his own epitaph. In January 1924 he died of tuberculosis and shocked the literature world at that time.
But death could not derogate the popularity of Jiri Wolker - quite the contrary - because of his premature passing his was stylized as a cult figure and all his works were published. In this process there were also some hot tempered discussions between different groups, especially between the communist who meant to use Wolker's work for their political ideology and the avantgarde who regarded literature and politic as two strict disunited environments.
Latest in 1948 when communism took over the power in the Czechoslovakia the works of Jiri Wolker were interpreted as socialistic poems.

The published autograph shows a handwritten postcard from Jiri Wolker to the later Nobel Prize winner for literature, Jaroslav Seifert.