Paul Wiecke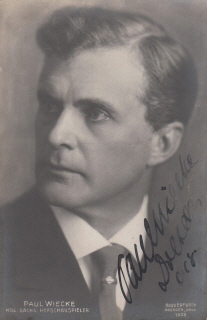 Foto: Hugo Erfurth (1874-1948)
1862 - 1944
.
.
The actor Paul Wiecke discovered his love for acting at the convent school in Pforta where he played his first role in the play "Antigone".

Based on this experience he joined the University of Munich where he visited art and literature among others.

His professional acting career began in 1887 at the Hoftheater Weimar, in 1895 he got a long lasting engagement at the Schauspielhaus Dresden where he also was the director from 1920 to 1928.
In this time he supported the performance of modern plays by expressionist authors, in 1928 he was appointed to a honorary member of this theater but also request to retire by his critics at the same time.

In the film business he only appeared once in front of the camera for "Der galante König" (20), where he impersonated the role of King Joseph of Rome. The movie narrated the story of August der Starke.