Otto Sommerstorff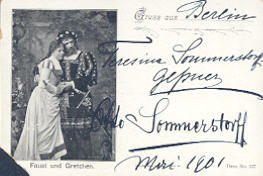 1859 - 1934
.
.
The stage actor Otto Sommerstorff belonged to the busy actors of the German spoken theater at the end of the 19th century.
To his numerous work places belonged among others the Berliner Theater from 1894-1900, the Deutsches Theater from 1900-1906 and the Schauspielhaus Berlin from 1906-1921.

He only appeared once in front of the camera during his career for the production "Das Fest der schwarzen Tulpe" (20) at Carl de Vogt's s side under the direction of Marie-Luise Droop.

Otto Sommerstorff was married with the actress Teresina Gessner (geb. 1865).