Rudolf Seibold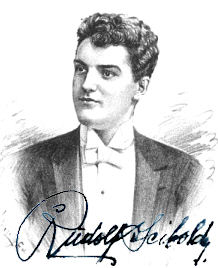 Bild: Jan Vilimek (1860-1938)

1874 - 1952
.
.
The actor Rudolf Seibold was born as Rudolf Seiboldny in Vienna.

He already made first singing experiences as a child when he sang so-called Schrammel songs. It soon followed first stage appearances at the Theater in der Josefstadt.

Later he got acting and singing lessons before he took part in his first operetta at the age of 15 with "Die Fledermaus".

In the next years followed engagements at different theaters in Austria and Germany before he became a long lastingmember in 1950 at the Theater am Gärnterplatz in Munich.
He became famous with his roles as Danilo in the operetta "Die lustige Witwe" and as lieutenant Nicki in "Walzertraum".
He often appeared at the side of the actress and singer Gisela Fischer.

Thank to his popularity he got the chance to play in a movie too.
He appeared in the production "Die wahre Liebe ist das nicht" (18) at the side of Joe Stöckel, Mizzi Parla and Anni Horst-Berger.

His daughter Mizzi Seibold became a operetta actress too.