Helmuth Renar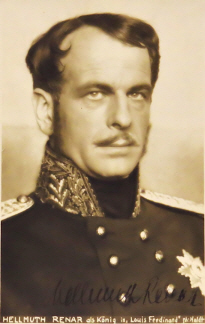 Foto: Hans Holdt (1887-1944)

? - ?
.
.
The actor Helmuth Renar began a military career after the school and he went to the Bavarian Kadettenkorps in 1905 where he served for five years. Afterwards he joing the war school and he was promoted several times during World War I.

After the war he became a stage actor and he impersonated smaller and later bigger roles on the stage from 1919. His engagements led him among others to Freiburg in Breisgau and Munich.

He made his film debut with a role as an officer in "Kreuzer Emden" (26) at the side of O.E. Hasse, Will Dohm, Werner Fütterer, Renée Stobrawa and Louis Ralph who was also the director of the movie.

As Talleyrand he took part in his last silent movie "Waterloo" (29) directed by Karl Grune with Charles Willy Kayser, Charles Vanel, Otto Gebühr, Friedrich Ulmer, Carl de Vogt and Camilla von Holley.

He continued his film career in the sound film era of the 30s and he acted in Carl Boese's "Roman einer Nacht" (33) with Liane Haid, Gustav Diessl, Paul Otto, Fritz Odemar and Max Schreck, as a district attorney in "Weisse Majestät" (34) with Gustav Diessl, Hertha Thiele, Beni Führer, Carl de Vogt and Ernst Stahl-Nachbaur as well as Franz Seitz's "Achtung! Wer kennt diese Frau?" (34) with Hilde von Stolz, Mathias Wieman, Werner Fütterer and Otto Wernicke. In this movie he played the role of earl Geza von Teröcky.

Danach konzentrierte er sich wieder auf seine Theaterlaufbahn und mit Ausbruch des 2. Weltkrieges diente er erneut als Offizier in der Armee. Erst nach dem 2. Weltkrieg trat er nochmals in wenigen Filmen vor der Kamera auf. Daneben setzte er auch erfolgreich seinen Bühnenkarriere fort.

Afterwards he concentrated to the theater again and with outbreak of World War II he served again as on officer in the army.
Only after the war he appeared again in few more movies.

To his last movies belong as privy councillor Winter "Das verlorene Gesicht" (48) directed by Kurt Hoffmann with Marianne Hoppe, Gustav Fröhlich, Paul Dahlke, Rudolf Vogel and Erich Ponto and the TV production "Admiral Bobby" (55) with Elfriede Kuzmany, Else Quecke, Georg Lehn and Ina Peters where he impersonated Lord Dobernoon.