Hellmuth Renar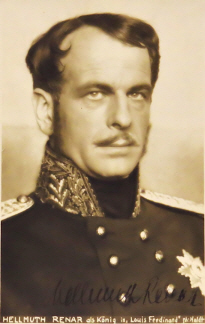 Foto: Hans Holdt (1887-1944)

? - ?
.
.
The actor Hellmuth Renar was active at the theater in the first place, he only appeared sporadically in front of the camera.

In his first movie he impersonated an officer in "Kreuzer Emden" (26) at the side of O.E. Hasse, Will Dohm, Werner Fütterer, Renée Stobrawa and Louis Ralph who was also the director of the movie.

As Talleyrand he took part in his last silent movie "Waterloo" (29) directed by Karl Grune with Charles Willy Kayser, Charles Vanel, Otto Gebühr, Friedrich Ulmer, Carl de Vogt and Camilla von Holley.

He continued his film career in the sound film era of the 30s and he acted in Carl Boese's "Roman einer Nacht" (33) with Liane Haid, Gustav Diessl, Paul Otto, Fritz Odemar and Max Schreck, as a district attorney in "Weisse Majestät" (34) with Gustav Diessl, Hertha Thiele, Beni Führer, Carl de Vogt and Ernst Stahl-Nachbaur as well as Franz Seitz's "Achtung! Wer kennt diese Frau?" (34) with Hilde von Stolz, Mathias Wieman, Werner Fütterer and Otto Wernicke. In this movie he played the role of earl Geza von Teröcky.

Afterwards he concentrated to the theater again, only after World War II he appeared again in few more movies.
To his last movies belong as privy councillor Winter "Das verlorene Gesicht" (48) directed by Kurt Hoffmann with Marianne Hoppe, Gustav Fröhlich, Paul Dahlke, Rudolf Vogel and Erich Ponto and the TV production "Admiral Bobby" (55) with Elfriede Kuzmany, Else Quecke, Georg Lehn and Ina Peters where he impersonated Lord Dobernoon.