Carmen Marah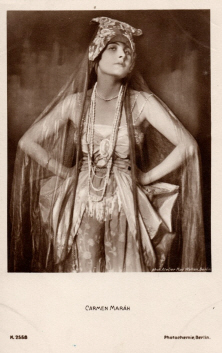 Foto: Mac Walten (1872-1936)


? - ?
.
.
The actress Carmen Marah was able to launch a film career in the silent movie era of the 10s but it lasted only two years.

Her first movie was "Tanzendes Gift" (18).

Although she took part in several movies in the following year her career already ended in 1919.
To her last cinematical works belong "Auf verbotenen Pfaden" (19), "Die Büchse der Pandora" (19), "Das Opfer der Isis" (19), "Der Schattenspieler" (19) and "Die Schreckensnacht im Irrenhaus" (19).