Lilly Marischka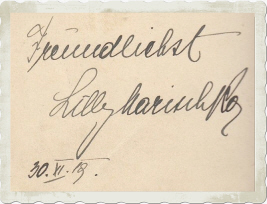 1893 - ?
.
.
The actress Lilly Marischka was born as Lilian Karczag.

She appeared in numerous plays before she also took part in few movies from 1920.

To her roles in front of the camera belong "Enis Aldjelis, die Blume des Ostens" (20), "Töte sie!" (20) with Paul Kronegg, Hubert Marischka and Ernst Tautenhayn, "Dorala" (21), "Die Huronen" (21) with Hubert Marischka, "Genoveva" (22) directed by Friedrich Rosenthal with Tini Senders, Franz Höbling and Werner Schott, Michael Curtiz' "Die Lawine" (23) at the side of Mary Kid, Victor Varcony and Mathilde Danegger and "Walpurgiszauber" (23) with Hermann Benke and Fritz Strassny.
With few exceptions all her movies were directed by Ernst Marischka.