Emil Höfer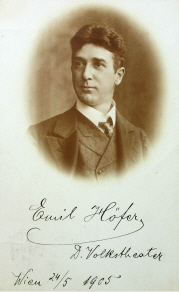 1864 - 1940
.
.
The actor Emil Höfer joined the film business in 1917 when he took part in the production "Der Geier von St. Veit" (17).

In the 20s followed other silent movies like "Sklaven der Liebe" (24), "Ich hab mein Herz in Heidelberg verloren" (26) and "Mein Heidelberg, ich kann Dich nicht vergessen" (27).

His last cinematical works came in the sound film era of the 30s into being.
To these works belong the productions "Weisse Majestät" (34), "Achtung! Wer kennt diese Frau?" (34), "Klein Dorrit" (34) and "Die unmögliche Frau" (36).