Bernard Grün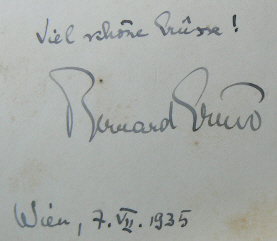 1901 - 1972
.
.
The filmcomposer Bernard Grün finished an education for law and philosophy before he dedicated to the theory of music.

He composed his first successful stage music in 1930 with "Böhmische Musikanten".
In the next years followed other operettas like "Marlenes Brautfahrt" (33), "Balalaika" (36) and "Gaby" (36) as well as additional music for Richard Tauber's "Old Chelsea".

Bernard Grün was also able to cmpose music for the film and he wrote the soundtrack for the production "Ein Auto und kein Geld" (32). Already in 1920 he worked for the film business for the first time when he wrote the screenplay for "Die Erlebnisse der berühmten Tänzerin Fanny Elssler" (20).

But with the rise of the National Socialists his career ended in the German-speaking Europe and he emigrated to England. There he called himself Bernard Grun.

He was able to continue his career as a composer and he also wrote music for movies again.
To these movies belong "Magyar Melody" (39), "White Cradle Inn" (47), "Balalaika" (48), "The Blind Goddess" (48) and "Brass Monkey" (48).

Beside it he was the musical director at the "His Majesty's Theatre" in London where he directed many performances.
Moreover he also wrote several books to musical topics, among them "Die leichte Muse" about the history of the operetta, "Prince of Vienna" about the composer Oscar Straus, "Der goldene Federkiel" about Wolfgang Amadeus Mozart and "Gold und Silber" about Franz Lehár.