Thea Grodtzinsky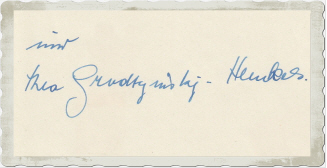 1893 - 1978
.
.
The actress Thea Grodtzinsky learnt her acting abilities at the stage school in Düsseldorf where she also had her first appearances.

There she als met the actor Paul Henckel and they got married some years later.

Thea Grodtzinksy only appeared seldom in front of the camera, for example in "Er und sein Diener" (31) and "Schneider Wibbel" (31) directed by her husband Paul Henckels. In both movies she used the pen name Thea Grodyn. They already impersonated the couple Wibbel successfully in numerous stage performances before.

Afterwards both the film and stage career was disrupted because she was a Jew.

Only after the war she was able to continue her stage career successfully and from 1954 she also took part again in movies and TV productions.
To her cinematical works after the war belong "Schneider Wibbel" (54), "Der tolle Bomberg" (57), "Der Vogel, scheint mir, hat Humor..."(61), "...und heute ins Theater - Ich, Erste Person Einzahl" (65) and an episode of the serial "Im Busch von Mexiko: Ergebnis der Fahndung: flüchtig" (67).