Richard Franz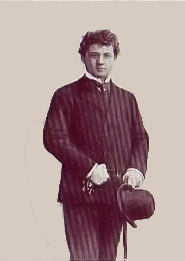 Foto: Anonym

? - ?
.
.
The actor Richard Franz was active at the theater in the first place and after finishing a theater school in Vienna he made his stage debut in Teschen in 1883. In the next years followed engagements in Graz, Berlin and Stuttgart.

From the end of the 10s he also took part in several movies.

To his cinematical works of the 10s belong "Das grosse Welträtsel" (18), "In dunkler Tiefe" (18), "Die rote Herzogin" (19), "Carewicz" (19), "Mit Leibe und Seele eigen" (19), "Herzensopfer" (19), "Fürstenliebe" (19) and "Die da sterben, wenn sie lieben" (19).

At the beginning of the 20s came his last movies into being with "Der Überfall auf den Europa-Express" (21) and "Krawattenmacher - Der Wucherer von Berlin" (22).