Olly von Flint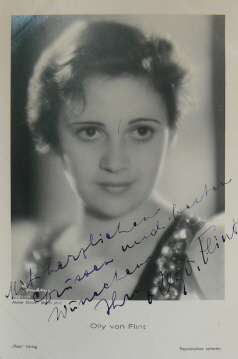 Foto: Alexander Binder (1888-1929)

1910 - 1993
.
.
The actress Olly von Flint took only part in few movies during the 30s.

Her first appearance in front of the camera was for the short movie "Es wird geheiratet" (32). Here she played the role of Kitty at the side of Szöke Szakall, Hermann Blass and Hugo Werner-Kahle.

Afterwards followed several feature movies. She played the daughter of Danton in Karel Lamac's "Baby" (32) with Anny Ondra, Adold Wohlbrück, Albert Paulig and Kurt Lilien, she was Mary Allen in "Der Tunnel" (32) directed by Kurt Bernhardt with Paul Hartmann, Attila Hörbiger, Otto Wernicke, Gustav Gründgens and Max Schreck, she impersonated Mary in Richard Eichberg's "Der Schlafwagenkontrolleur" (35) with Georg Alexander, Theo Lingen, Gustav Waldau and Hansi Arnstaedt and in the French production "La marraine de Charley" (36) she played the role of Olly Parker at the side of Lucien Baroux, Julien Carette and George Rigaud.

With the title role in "Hannerl und ihre Liebhaber" (36) directed by Werner Hochbaum with Albrecht Schoenhals, Hans Moser, Jane Tilden, Rudolf Carl, Hans Holt and Olga Tschechowa she retired from the film business.

Olly von Flint died on January 22, 1993 in Los Angeles.