Fritz Falkner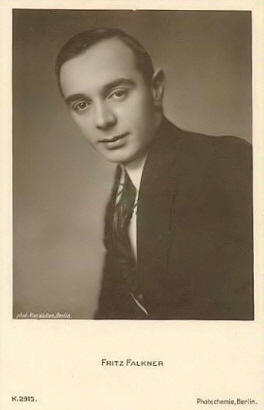 Foto: Mac Walten (1872-1936)

? - ?
.
.
The actor Fritz Falkner took part in few silent movies from 1917.

He appeared in his first movie "Der Jubiläumspreis" (17) under the direction of Alwin Neuss at the side of Fritz Achterberg, Käthe Haack, Alwin Neuss and Lotte Davis.

It followed the productions "Verlorene Töchter, 2. Teil: Opfer der Schmach" (19) as Richard with Fritz Alten, Anton de Verdier, Karl Falkenberg, Kurt Middendorf, Heinrich Peer, Ernst Pittschau and Magnus Stifter as well as the two-part movie "Der gelbe Tod" (20) with Hanne Brinkmann, Guido Herzfeld, Rudolf Klein-Rhoden, Frida Richard, Rosa Valetti, Gustav Adolf Semler and Eduard von Winterstein.

It lasted till after the end of World War II till he impersonated his last small role in front of the camera for "Hin und her" (48) directed by Theo Lingen with Fritz Eckhardt, Theo Lingen, O.W. Fischer, Dagny Servaes, Harry Halm and Curd Jürgens.