Paula Conrad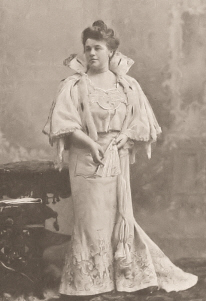 Foto: Carl Pietzner (1853-1927)
1860 - 1938
.
.
The actress Paula Conrad, who also appeared as Paula Conrad Schlenther, began her stage career already in 1877 in Baden near Vienna. In the next years followed engagements at the Königliches Schauspielhaus in Berlin and after her marriage with Paul Schlenther at the Burgtheater in Vienna where she worked from 1898 to 1910.
Finally she returned to Berlin.

In Berlin she got in touch with the film business and she played her first film role in "Die Verschleierte/Haschich, das Paradies der Hölle" (21) with Paul Hartmann, Tilla Durieux, Fritz Kortner and Wihelm Diegelmann.

In the next years followed other silent movies, among them "Die Furcht vor dem Weibe" (21) with Bernd Aldor, Wilhelm Diegelmann, Otto Gebühr, Robert Leffler, Marija Leiko and Max Pohl, as Lydia's mother "Liebes-List und -Lust" (22) at the side of Carl de Vogt, Margarete Kupfer, Arthur Kraussneck, Hermann Leffler and Claire Lotto, playing the role of princess Anastasia in "Der verlorene Schuh" (23) directed by Ludwig Berger with Helga Thomas, Paul Hartmann, Frida Richard, Hermann Thimig, Lucie Höflich, Mady Christians, Olga Tschechowa, Max Gülstorff and Gertrud Eysoldt as well as "Mein Leopold" (24) as Amalia with Arthur Kraussneck, Walter Slezak, Käthe Haack, Georg Alexander, Leo Peukert and Georg John.