Hans Heinz Bollmann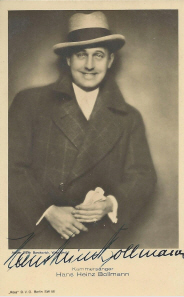 Foto: Edith Barakovich (1896-1940)

1889 - 1974
.
.
The singer and actor Hans Heinz Bollmann was especially very popular as a chamber singer in Germany.
Because of his huge popularity it was only a matter of time till the sound film reported to him. To his early movies belong "Die Lindenwirtin" (30), "Der Bettelstudent" (31), "Friederike" (32) and "Frasquita" (34).

The film business was always a minor matter in Hans Heinz Bollmann's life, the music was his real passion.
After the war he only took part in the movie "Die Dubarry" (51).