Charlotte Boerner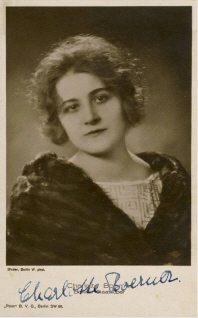 1900 - ?
.
.
The actress and singer Charlotte Boerner was normally active on stage, she only appeared rarely in front of the camera.

She attended a music study by Max WŁnsche and got singing lessons by her mother, the singer Hildegard Boerner.

She appeared as an operatta singer at the Nollentheater in Berlin in 1921, two years later she had her first engagement as an opera singer at the Staatsoper Dresden. In the same year she also sang at the Staatsoper Berlin where she was active till 1927.

In 1928 followed tours through the USA, later she appeared regular in the USA till 1936, among others at he opera of Philadelphia , the opera in San Francisco and at the Carnegy Hall in New York.

Her first movie was "Die Stimme der Liebe" (34) where she played the role of the empress. To her co-stars belonged Marcel Wittrisch, Marieluise Claudius, Kurt Vespermann and Oskar Sima.

She only continued her film career many years later in the USA where she impersonated several smaller parts.
To these productions belong "Rosemary's Baby" (69) directed by Roman Polanski with Mia Farrow, John Cassavates and Ruth Gordon, an episode of the serial "Family Affair: A Waltz from Vienna" (68), George Cukor's "Justine" (69) with Anouk Aimťe, Dirk Bogarde and Robert Forster and "Wake Me When the War Is Over" (69) with Eva Gabor, Ken Berry and Jim Backus.