Gertrude Barrison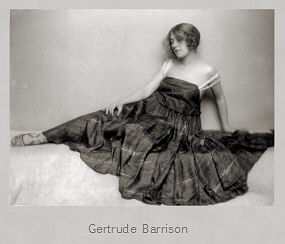 Foto: D'Ora Kallmus (1881-1963)
Mit freundlicher Genehmigung
Österreichische Nationalbibliothek Copyright

1880 - 1946
.
.
The dancer, singer and actress Gertrude Barrison was born as Gertrude Bareisen. She had her greatest successes together with her four sisters Lona, Sophia, Inger und Olga. They began her career in the USA where they became popular with their perky dances and patters. Her success released a great number of other female groups who also appeared as "The Sisters XY" although they not always were sisters in reality.

After their successes in the USA the Barrison Sisters went to Europe and toured through numerous countries.

The sisters separared about 1900. Only Lona and Gertrude continued her career as solo artists.
Gertrude Barrisonwas able to launch a successful dance career in Vienna where she appeared till to the beginning of the 20s.

During her time in Austria Gertrude Barrison was engaged for the movie "Die grosse und die kleine Welt" (21) directed by Regisseur Max Mack . To her co-stars belonged Alfred Abel, Hans Albers, Charlotte Ander, Eugen Burg, Lia Eibenschütz, Ilka Grüning, Albert Paulig and Hermann Picha.

Gertrude Barrison was married with the painter Carl Hollitzer.