Lys Andersen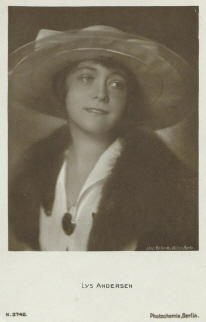 Foto: Mac Walten (1872-1936)
? - ?
.
.
The actress Lys Andersen joined the film business at the end of the 10s where she remained active in front of the camera for the next five years.

Her first movies were "Zlatorog" (18) and "Kronprinz Rudolph oder: Das Geheimnis von Mayerling" (19).

In the 20s followed other cinematical works with "Der Doppelmord von Sarajewo" (20), "Unter der Dornenkrone - Mexikos Kaisertragädie" (21), "Das Geheimnis der Santa Margherita" (21) and "Im Schatten der Moschee" (23).